The Western Forest Complex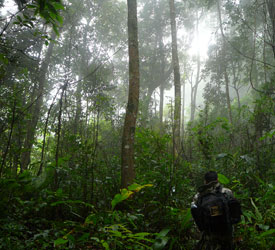 Morning mist at Huai Mae Lamum
Location
Seventeen forest regions comprise the western forest complex (WEFCOM), situated in western Thailand along the Tranao Sri Mountain Range, near the Mayanmar border. Its boundaries extend through five provinces: Kanchanaburi, Supanburi, Uthaitani, Kampaengpet, and Tak, and (theoretically) collectively protect 11.7 million rais (approximately 4.4 million acres) of forest. This is the largest and most important forest tract remaining in Southeast Asia, with an intact ecology and a watershed that provides drinking water to thousands of Thai people.
WEFCOM consists of Thailand's most important protected areas complexes, including Khao Laem National Park (NP), Khaoen Si Nakerin NP, Erawan NP, Khlong Lan NP, Mae Wong NP, Klong Wang Chao NP, Sai Yok NP, Umphang Wildlife Sanctuary (WS), Huai Kha Khaeng WS, and Thung Yai Naresuan WS, and Salakpra WS. In addition, there are several proposed national parks. Click on the maps below for more information.
Project Area
Click on the map to Enlarge [+]

Western Forest Complex
Click on the map to Enlarge [+]
This protected areas complex, lying along the international boundary with Myanmar, is contiguous with intact forests in Myanmar, and has been identified as being extremely important for conservation of elephants and tigers. Among the notable birds of conservation significance are the globally threatened plain-pouched hornbill and the largest population of the critically endangered gurney's pitta.
Geology
Route between Tham Thanlod Yai and Tham Thanlod Lek
WEFCOM supports globally outstanding levels of species richness. The region has a highly dissected topography, with Paleozoic limestone hills characterized by overhanging cliffs, sinkholes, and caverns. Thus, seasonal rainfall, elevation, substrate, and biogeography all contribute to the forest diversity of this region.
The topography is generally mountainous with a network of many permanent rivers and streams dividing the area into valleys and lowland plains. Within the catchment area are four important rivers: the Mae Khlong, which flows into the Kwai Yai (of "Bridge over the River Kwai" notoriety) and feeds into the Sri Nakarind Dam; Kwae Noi, which feeds into Khao Laem Reservoir; and Mae Kasart and Mae Suriat which, respectively, flow into Mekathat and Huang Tharaw rivers in Myanmar. Red-brown earths and red-yellow podzols are the predominant soils, the former derived from limestone and found in the level uplands and Mae Chan Valley, while the latter is found in the Huai Kha Khaeng Valley.
Limestone formation in Tham Thanlod Yai
A physical feature that is important for wildlife is the presence of mineral licks. These occur throughout the sanctuary as either wet or dry, and most appear to be located on, or around, granite intrusions in areas with red-yellow podzolic soil and may be associated with the massive faults or lineaments in the intensely folded geomorphology of this area. Small lakes, ponds and swampy areas occur, some being seasonal whilst others are perennial; these are important wildlife habitats. Limestone sink holes are found; most are only about 20m in diameter and 10-12m in diameter, but some are more than 2km long, 250m wide and drop as much as 30m depth.
Flora
Grassland at Thung Na Mon
The principal vegetation types include hill evergreen forest; dry evergreen forest; mixed deciduous forest; dry dipterocarp forest; savanna forest; grassland; and areas of swidden agriculture. The highest ground is generally covered with hill evergreen forest, also known as tropical lower montane rain forest, but slopes above 600m generally support dry evergreen forest (seasonal evergreen forest). This latter formation is tall, dense, stratified and always dominated by dipterocarps, and may appear to be evergreen in wet areas. In some areas, particularly broad valleys, there is often a mosaic of vegetation types.
Bamboo shooting at Huai Mae Lamum
At lower altitudes mixed deciduous and bamboo forests predominate, with dry deciduous dipterocarp forest occurring in areas with poor or shallow soil. Mixed deciduous forest is the most predominant formation, probably dominated by Lagerstroemia calyculata associations, although pure stands of Xylia xylocarpa are found. Dry dipterocarp forest, also referred to as dry deciduous dipterocarp, is unique to mainland Southeast Asia. It is dominated by five xerophilous dipterocarps and is confined to the poorest and most porous soils where fire occurs. Savanna forest and grassland, both very similar formations, occur at every elevation. Some 17 trees occur in the savanna forests, of which L. macrocarpa, Stereospermum nueranthum, Terminalia chebula and Dalbergia cultrata are amongst the most common. Trees within grassland are smaller, of generally the same genera, but not exceeding 5m, and stunted either by fire or other edaphic constraints.
Fungus at Huai Mae Lamum
In particularly moist areas along rivers and streams, evergreen gallery forest is present. This is noticeably more lush than other formations, and harbors many more creepers, climbers, and epiphytes, with emergents as high as 40m. The gallery forest sustains a higher than usual level of biological diversity in comparison to the more widespread but drier habitats, especially during dry season fires. The most important wetlands are those along the upper Khwae Yai and is tributaries, the Mae Klong and Mae Chan, both deep, fast flowing rivers with steep banks, muddy bottoms and frequent rapids and rocky ravines.
Secondary forest on areas of former swidden agriculture are found in the Mae Chan Valley and central uplands towards the east. Swidden agriculture has been practised in areas of the most fertile soils which indicates that some of the richest forest has been destroyed but also that there is a good chance of regeneration. Characteristic species are those that grow in the surrounding forest, including L. macrocarpa, Vitex peduncularis, Bauhinia acuminata and Albizia odoratissima.
Fauna
The fauna of the WEFCOM includes an unusual mix of species with primarily Sundaic, Indo-Chinese, Indo-Burmese and Sino-Himalayan affinities, many of whose ranges do not overlap. Most species are either characteristic of the Oriental/Indo-Malayan region or more specifically associated with the Indo-Chinese province of that region, but with a strong Sundaic element included. A small proportion is Palaearctic.
Thung Yai has not been comprehensively surveyed, but it is known to support a significant proportion of Thailand's fauna (Nakasathien et al., 1987). It is big enough to support several of the larger and increasingly rare mammal species, such as tiger Panthera tigris (E), leopard P. pardus, clouded leopard Neofelis nebulosa (V), Elephas maximus (E), tapir Tapirus indicus (E), Sumatran rhinoceros Didermocerus sumatraensis (E), gaur Bos gaurus (V), mainland serow Capricornis sumatraensis (I) and hog deer Cervus porcinus. A herd of 50 gaur was seen in 1985, making it the largest herd recorded in Thailand (P.D. Round, pers. comm.). Neither banteng B. javanicus (V), nor wild water buffalo Bubalus arnee (E) has yet been reported from Thung Yai, although both occur in neighbouring Huai Kha Khaeng Wildlife Sanctuary. The Javan rhinoceros Rhinoceros sondaicus (E) is said to have existed in the area and a track was photographed in 1988 (J.Thorsell. pers. comm., 1991).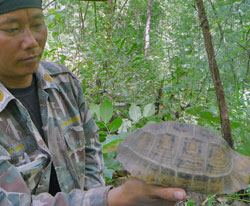 Noi with Elongated Tortoise at Huai Kabok
Notable bird species include white-winged wood duck Cairina scutulata, Kalij pheasant Lophura leucomelana, Burmese peafowl Polyplectron bicalaratum and green peafowl Pavo muticus (V) (Round, 1988).
A detailed summary discussion of the fauna of the combined Thung Yai-Huai Kha Khaeng sanctuaries is given in ONEB (1990) and species lists have been compiled. This includes some 120 mammals, 400 birds, 96 reptiles, 43 amphibians and 113 freshwater fish as confirmed occurrences, with a number of species suspected as being present but not confirmed. Thirty-four internationally threatened species are also found within the confines of the two sanctuaries (ONEB, 1990).