ECN Staff
Belinda Stewart-Cox
Founder & Executive-Director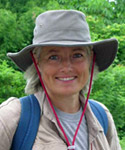 After working in publishing and television, Belinda read Human Sciences at Oxford University, coming to Thailand in 1986 to do a short study of green peafowl in Huai Kha Khaeng Wildlife Sanctuary. She has focused on the forests and wildlife of west Thailand ever since. In her early years here, she worked closely with one of Thailand's best known wildlife researchers, the late Seub Nakhasathien.
Together with other officials, researchers and NGO campaigners, they helped defeat the Nam Choan Hydro-Dam proposal (1988); the revised law allowing loggers into wildlife sanctuaries (1989) and they wrote Thailand's nomination for Thung Yui-Huai Kha Khaeng to become, in 1991, the first natural world heritage site in mainland southeast Asia. After Seub's death in 1990, Belinda became a founding trustee of his namesake foundation, raising funds for numerous projects while helping to promote the need to conserve the Western Forest Complex.
She left the foundation in 1999 to develop a project that would become the Elephant Conservation Network in 2005. In the meantime, she obtained an MSc in conservation and tourism from the Durrell Institute of Conservation and Ecology, Kent University, doing fieldwork in Kenya as part of a human-elephant conflict mitigation project, and she established a collaborative partnership with the Zoological Society of London. In 2011, H.M. Queen Elizabeth awarded her an OBE for her services to conservation in Thailand and for her role as a lay ambassador for Britain.
---
Jittin Ritthirat
Co-founder & Programme Manager
A native of the rural hinterland of Nakhon Sri Thammarat in peninsula Thailand, Jittin began working with Belinda in 1998 to develop the elephant project that subsequently evolved into the Elephant Conservation Network. After attaining a BSc in mass communication and journalism with a major in English language from Thammasart University, Jittin spent twelve years working as a journalist, feature writer, including five years with the English-language Nation newspaper, focusing on social, cultural and environmental themes. A keen interest in nature, travel, cultural traditions and rural communities has guided her career path and led her, eventually, to her current commitment to collaborative elephant ecosystem conservation with an associated interest in ecotourism.
In 2000, she won a British Chevening Scholarship to study for an MSc in Development Studies at Leeds University, UK, which she has put to good use in helping to shape ECN's participatory approach to grass-roots conservation. From 2002-4, she served as development director for Jumbo Travel, a Kanchanaburi-based culture-nature tourism operator. In 2009 she won a prestigious Whitley Award for Nature, travelling to the UK to receive the award from H.R.H. Princess Anne. In 2011, Thailand's Praew magazine for professional women voted her one of ten outstanding women in conservation in Thailand.
---
Wilaiwan Kalyakool (Tik)
Field researcher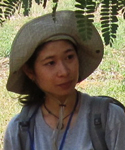 A native of Samut Sakorn province in the gulf of Thailand, Tik earned a BSc in Forestry from Kasetsart University and then got an MSc in Ecology from Mahidol University. For her thesis, Tik worked with the Hornbill Research Foundation under the supervision of its well-known founder Dr. Pilai Poonswad, focusing on the habitat use of great hornbills in three main forest types in different regions of Thailand. This involved spending many months working with villagers in remote areas of Thailand which she loved because it allowed her to exercise her particular interest in bird-watching and learning about animal behaviour and ecology. Tik's principal duties with ECN are to help with monitoring and forest surveys, while at the same time being in charge of documenting HEC/crop-raiding incidents and managing the database that underpins all our work, providing the baseline data we need to assess whether we are making a difference in our quest to alleviate human-elephant conflict.
---
Nattakan Suttanon (Tik2)
Field Researcher
A native of Roi-Et province in north-east Thailand, Tik2 graduated from Kasetsart University's Faculty of Forestry with a BSc in Wildlife and Range Science and, three years later, with an MSc in Zoology, looking at the diversity and seasonal distribution of reptiles in different forest formations in Nakhon Ratchasima province. Thereafter, she spent three years working as a research assistant with the CITES Authority within the Department of National Parks, Wildlife and Plant Conservation, focusing on the illegal trade in wildlife, including elephants. Joining ECN in early 2011, she is leading our corridor connectivity project, carrying out field surveys with local rangers and villagers to document the routes used by key wildlife species, including elephants, to travel between the Salakpra Wildlife Sanctuary and adjacent protected areas. Keen to develop her professional capability, she is using this opportunity to improve her English and presentation skills as well her field craft and analytical abilities.
---
Chakkrit Sirimahan (Jak)
GIS officer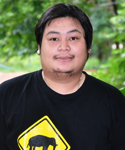 Jak hails from Nonthaburi province and holds a degree in Conservation Biology from Mahidol University. Asked why he is so glad to work with ECN, he says he really wanted to work in nature conservation in Kanchanaburi because this province has so much forest and wildlife as well as beautiful landscapes. He is also pleased to be developing his GIS and mapping skills while at the same time getting more field experience and the opportunity to practice speaking English. "This job is really living life" he feels, which is "more valuable than any amount of salary". His work with ECN involves him with the Smart Patrol and Corridor projects as well as with the HEC monitoring project, all of which greatly appreciate his GIS abilities. He is also overseeing our project with forest rangers to monitor the seasonal use by elephants and other wildlife of the man-made ponds inside southern Salakpra. Before he joined ECN, insects were his passion but, luckily for us, he is a fan of elephants and other wildlife too. When not working, Jak is a keen musician, singing and writing songs in various genres while playing several different instruments.
---
Arun Pilachuen (Pong)
HECx Programme Manager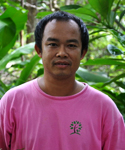 Raised in NongKhai province, Pong gained a Bachelor degree in Human and Social Science from KhonKaen University, and a Master degree in Anthropology from Silapakorn University. He then spent over ten years working as a research assistant in community development with various organisationsbefore joining the Centre for People and Forests (also known as the Regional Community Forestry Training Centre) where he spent three years as a training co-ordinator for its community-based management projects and youth activities. Pong is an exceptionally skilled facilitator of group activities, with valuable experience at the local or grass-root level involving villagers, community leaders, government officials,rangers, teachers, students, and NGO teams. He is now helping us develop ECN's Human-Elephant Coexistence Programme which includes HEC mitigation projects such as alternative livelihoods and community forest restoration as well as our HECx awareness training project.
---
Saravanee Namsupak (Nok)
Community Conservation Project Manager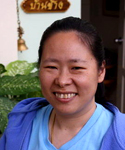 With a home in Bang Pong district of nearby Ratchaburi province, Nok is almost a native of Kanchanaburi. After graduating from West Virginia State University (USA) with a degree in Computer Science and Applied Mathematics, Nok badly wanted to find a job that allowed her to do something worthwhile for society in her own country, but the only jobs she could get were as a stock broker, as a teacher in computer skills, as an import-expert administrator, and finally as a secretary intourism management and as a freelance guide in Kanchanaburi. That's when she heard about ECN, liked what she heard, and discovered that we were looking for someone to manage our alternative livelihoods projects with local communities. With no prior experience in this field, Nok has taken to it like a duck to water, using her interpersonal skills, training and management experience to help forest users develop new micro-enterprises that do not exploit the conservation area unsustainably. It is her dream job because she is working for something she believes in, helping local people improve the quality of their lives.
---
Anchalee Sapantupong (Joy)
Action-research officer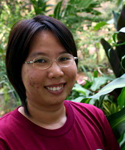 A home-grown native of this province, Joy graduated from Rajaphat College Kanchanaburi with BSc in Agricultural Science, while majoring in Botany. Since she joined ECN three years ago, she has worked with our Forest Restoration Research unit (FORRU) project that was trained by the FORRU-Chiang Mai Unit founded and managed by Dr Stephen Elliott. The aim of our initial 3-year FORRU project was to identify the indigenous framework species best suited to the restoration of degraded forest in the dry lowlands of west Thailand, focusing primarily on community woodlands around Salakpra. Joy helped implement the seed germination and seedling growth trials as well as monitoring our 3.5 km phenology trail and doing forest surveys to identify native species no longer found in community areas. She loves her job because it allows her to develop her knowledge of dendrology while also helping villagers develop the skills and knowledge necessary to restore and manage their community woodlands more effectively. 'It's active, rewarding and fun!' says Joy with a grin. In 2011, Joy co-authored ECN's forest restoration manual for west Thailand which was distributed widely in Kanchanaburi following a series of post-project workshops led by Joy.
---
Sasithorn Thampitak (Gip)
Research Assistant
Gip has lived in Kanchanaburi for several years although she is originally from a small village in the next-door province of Nakhon Pathom. Not knowing what she wanted to do in life, Gip studied political science at Ramkhamhaeng University in Bangkok where she joined a nature lovers club and a rural volunteers group to help projects up-country. These extra curricula activities reminded her that she is a country girl, not a townie, with an interest in agriculture and forestry as well as nature. As a result, she wanted to work at the interface of human settlement and wildlife conservation. She joined ECN in 2007 to carry out the preliminary surveys in the Srisawat reserve forest that have led to the current project with DNP to identify the most effective and feasible wildlife corridor in that area between the Salakpra and Srinakarin protected areas. In 2008, she joined our FORRU teamto help conduct nursery research and facilitate community woodland restoration. She still works with that project, launching the second phase which is focusing on outreach and training.
---
Kanokwan Thongbai (Nok2)
Eco-education officer
Nok2 has moved to Kanchanaburi from the nearby province of Petchburi. She is a graduate of Mahidol University with a Bachelor degree in Conservation Biology. During her training, she began to develop an interest in the education angle of conservation, volunteering for a number of university projects around Thailand that allowed her to develop skills that would enable her to pursue this as a career, including photography and film-making. ECN is her first full-time job and she is delighted to have this opportunity to strengthen her interest and abilities in eco-education by developing our HECx awareness-raising and outreach activities, including our Elephant Day Festival, our Thai-English storybook and our HECx training course. She is delighted to be working with a broad range of people, including teachers, students, artists, farmers, rangers, education officials and ECN colleagues to find a more sustainable solution, or compromise, to the very particular problem of human-elephant conflict.
---
Hathaichanok Kleabkajorn (Ton)
Admin-accounts assistant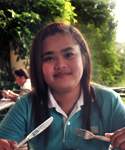 Ton is from Suan Peung, a small town near the Burma border in the next-door province of Ratchaburi. However she studied business administration and accounting at the Rajaphat University in Kanchanaburi. Before joining ECN, she worked as an admin-accounts assistant for a private business in Kanchanaburi but when she heard from her friend Gip that we were looking for someone to fill a similar role, she applied immediately. She is thrilled to be involved in so many projects, providing practical support and administrative back-up to everyone at ECN. With her cheerful, hard-working character, she has quickly become a key member of our team, and is the heart and soul of every off-duty activity.
---
Katie Breach
ZSL-intern/trainee project support manager
Although she looks like a quintessential English rose, Katie is in fact half Indian and has had a good deal of work experience in foreign lands, including Thailand, serving as a research volunteer on various social and conservation projects. She graduated with a BSc in Zoology from Bristol University and then got an MSc in Conservation Science from Imperial College, London, doing her thesis on pit vipers in St Lucia with a project of the Durrell Wildlife Trust. In the meantime, she also worked on primate projects in Indonesia and South Africa, and as an ecologist on a wetland project in the UK. Katie has committed to work with ECN for at least two-years, and is learningto speak and read Thai in order to help Thai team members produce project reports, funding-proposals and publications while also developing her own skills in conservation project management.After 3-months of intensive language training, interspersed with introductory field trips, she will soon get more involved with different ECN projects in turn so as to learn about each of them in depth.
---
Kusuma Polkaew (Gae)
Community Coordinator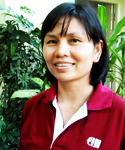 Gae was born and brought up in Maha Sarakham province, north-east Thailand, but she got her BSc in Community Development at Khon Kaen University and then studied for an MSc in Anthropology at Silpakorn University. She then spent two years as a research assistant in the Development Department of Khon Kaen University working on a project to improve water pipelines for irrigation systems in north-east Thailand. After that, she spent four years with Wildlife Fund Thailand working on a village development project with Kuiburi National Park in Prachuap Khirikhan, south-west Thailand, that was funded by the Thai Petroleum Company (PTT). When her task there was done, she returned to her home province to work as a researcher in the nursing department of Maha Sarakham University helping people with HIV, and their families, learn how to live together with this illness. She likes working with rural communities, doing fieldwork and analysing research findings to help improve management practices. She has joined ECN's human-elephant coexistence programme, working specifically on HEC mitigation projects, including our joint forest management scheme with the Salakpra ranger team.