Crop-Raiding Monitoring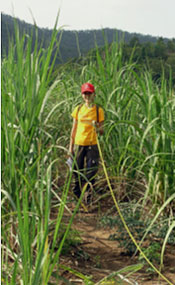 Measuring crop-raiding by elephants
Crop-raiding by elephants (being measured right by Mem) is the main form of human-elephant conflict around Salakpra and it is increasing. It is a problem that has changed in scope and distribution over the last two decades as the socio-economic and environmental context has changed. Yet it has never been monitored, mapped, or properly documented. Without a solid factual understanding of the details of crop-raiding over time, it is not possible to find a solution to the problem that is effective, sustainable, and fair to the people and elephants affected.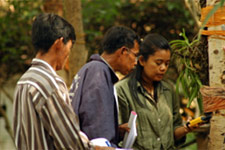 Village monitors from key villages
From early 2006, ECN recruited and trained thirty village monitors (left with Jittin) from key villages to help report, record and map every incident of crop-raiding and any other form of human-elephant conflict. These men and women are important, much valued members of the Elephant Conservation Network. Together, we have systematically gathered data through the dry, wet and cool season harvesting periods when crop-raiding is most intense. Over time, this day-to-day long-term activity, combined with information about natural resource exploitation and land use, will provide a much better understanding of the patterns, preferences, frequency, seasonality, locations and intensity of crop raids as well as the success or failure of crop protection measures.