Crop Protection Trials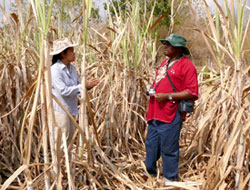 Jittin and Dr Noah Sitati examining raided sugar-cane at Nong Hoi
In early 2007, the ECN team will initiate crop-protection trials with farmers affected by crop-raiding in order to find out which methods work and which ones are the most cost-effective over time. Some methods are Thai designs that have been tried locally and are believed to be effective but have not yet been properly monitored, such as string and plastic bags (below). Other methods have been used effectively elsewhere in Asia and Africa but have not been tried locally.
String and plastic bags around Ta Manao nursery
Technical help is being provided by our Kenyan associate, Dr. Noah Sitati (above with Jittin), who has ten years experience managing a human-elephant conflict mitigation project around the famous Maasai Mara wildlife reserve. Crop protection is unlikely to stop all crop-raiding although it may reduce the costs incurred. Other measures, such as alternative incomes, collaborative forest protection, natural resource management, and environmental education, will also be necessary.
Conservation Tourism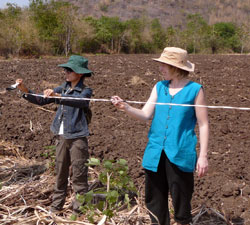 Painting rope
In April 2007, with the help of Charlotte Johnston, a sustainable tourism specialist from the UK, we conducted a feasibility study to find out how best to develop an effective and viable conservation tourism initiative for the benefit of local communities, forest conservation and the elephants of Salakpra. Kanchanaburi hosts more than five million tourists a year, but most of them come to see its famous war memorials and infamous tiger temple. Few people appreciate the province's natural attractions and even fewer know that it still supports several populations of increasingly threatened wild elephants. Our aim is to use tourism as a conservation tool, but this is much harder to achieve than using tourism as a business or development tool.