The Elephant Conservation Network
Kanchanaburi, Thailand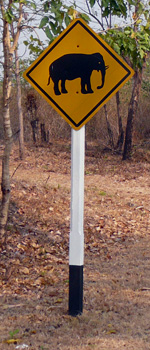 Elephants are the national, royal, and religious icons of Thailand, and yet their survival in the wild is threatened by the legitimate and illegitimate demands of an ever-increasing human population. As a result, fewer than 2,000 wild elephants are thought to survive nationwide (half of them in the western forest area), and human-elephant conflicts are increasing all over the country.
ECN is a small non-government organization located in Kanchanaburi, Thailand, that works in partnership with local people and other NGOs, as well as local and national government agencies. We're implementing a program of activities to tackle the dual challenges of elephant conservation and human-elephant conflict in and around the Salakpra Elephant Ecosystem (see detail map in sidebar), which includes the Salakpra and Tham Thanlod conservation areas (928 km2 in total), the Srisawat national reserve forests, and privately-owned lands around the protected areas. These areas comprise the country's largest population of wild elephants.
Salakpra Wildlife Sanctuary and Than Thanlod National Park (hereafter referred to simply as Salakpra) form the south-eastern arm of Thailand's Western Forest Complex. Created in 1965, Salakpra was the first wildlife sanctuary in Thailand; it is home to over 150 wild elephants whose optimal forest habitat has been persistently diminished by encroachment and over-exploitation, as well as by dams, roads and associated ribbon development. As a result, more and more local farmers are troubled by crop-raiding.
Current ECN Projects
Corridor Protection
Secure an effective forest corridor between Salakpra and the Srinakarin protected areas in order to prevent the total isolation of Salakpra's elephants. MORE »
Crop Protection Trials
Undertake crop-protection trials to reduce the cost of crop-raiding and inform our search for sustainable solutions to HEC. MORE »
Crop-Raiding Monitoring
Monitor, map, and measure the incidents of human-elephant conflict (HEC) in order to provide the factual basis upon which to seek an effective and sustainable solution. MORE »
Forest Elephant Surveys
Monitor the seasonal activities and habitat associations of elephants and people inside the conservation area in order to establish what links there may be to crop-raiding. MORE »
Land-Use Mapping
Match photographs to satellite maps to accurately track land use patterns in and around Salakphra. MORE »
Socio-Economic Surveys
Monitor the land-use and socio-economic links to human-elephant conflict in order to identify areas most in need of mitigation and to enable the evaluation of interventions. MORE »
Over the last four years, ECN has been supported by:
ECN is also supported, or sponsored in kind, by: